Helsinki Christmas Market opens in December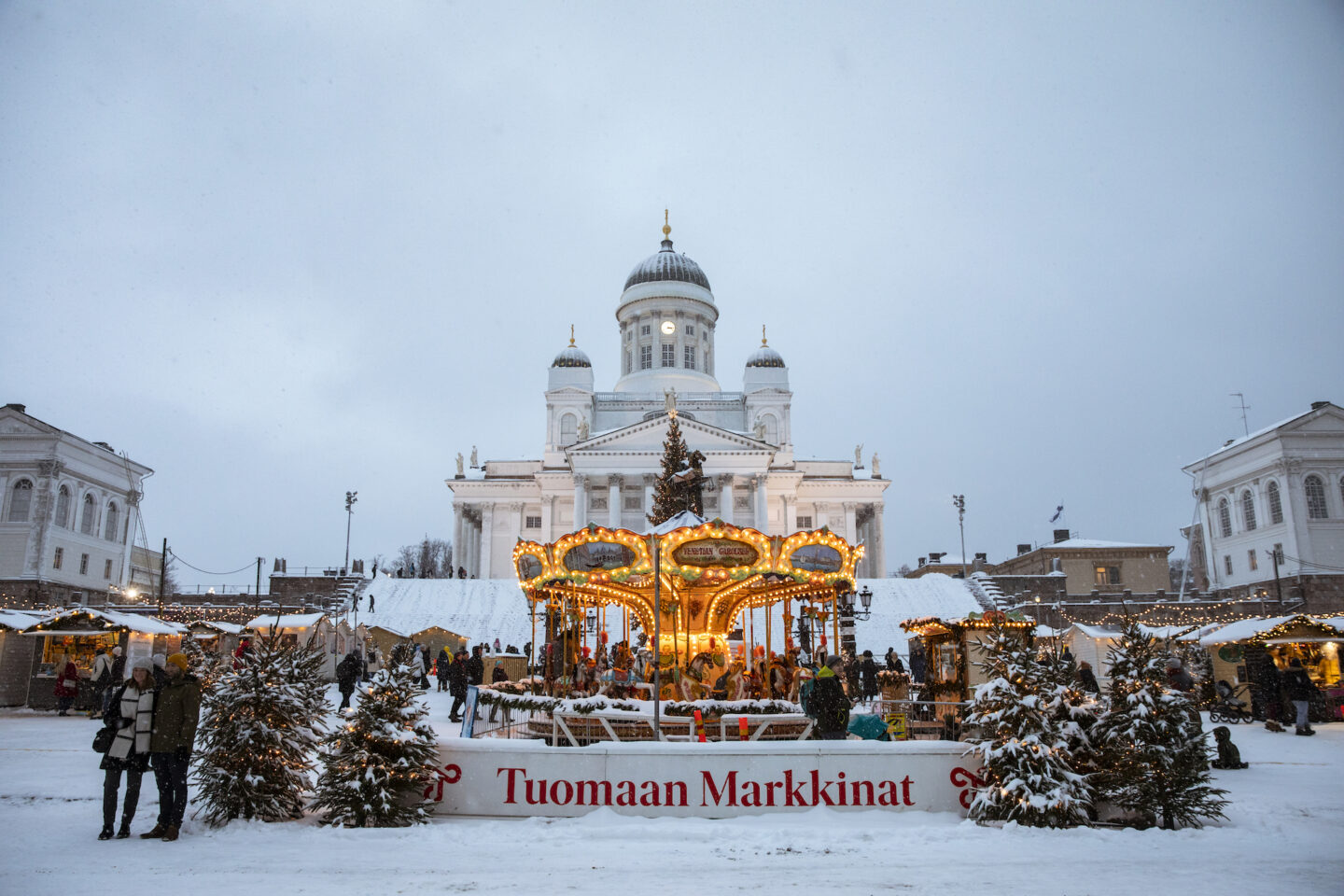 The beloved Helsinki Christmas Market brings to Senate Square nearly 100 artisans and small producers from all over Finland as well as over 20 vendors of delicacies and cafe and restaurant operators. Helsinki Christmas Market kicks off on Friday, 1 December, with an opening programme and remains open until 22 December.
Helsinki Christmas Market once again decks out the Senate Square in true Christmas fashion and provides an event characterised by sustainable development, responsible Christmas shopping and a wintery Helsinki experience. Helsinki's most eye-catching outdoor Christmas Market has been bringing the Christmas spirit to visitors since the mid-1990s.
As with previous years, the vendors at the market are small producers and local vendors of responsible goods. There are both new and returning vendors. Finnish fish and meat delicacies, pastries, mushroom salads, jams and mustards are perfect for the Christmas table. Handmade sweets, jewellery and natural cosmetics as well as wool socks, hats and other things to keep you warm, or design and decorative products based on old Finnish travel posters make for great Christmas gifts.
Enjoy the flavours of Christmas in a winter atmosphere
The market area's idyllic centre consists of the Deliyard and Restaurant Yard, which also serves alcoholic beverages. The Deliyard and Restaurant Yard provide an atmospheric setting to indulge and savour the moment amidst the holiday rush. They serve a wide variety of traditional Christmas treats and offer a possibility to check out new Christmas flavours – take-away is also an option.
The Helsinki Christmas Market restaurants serve organic and local food as well as vegetarian and vegan dishes. In addition to familiar vendors, the selection includes a lot of new things, for example, Venezuelan Christmas foods by Arepera Bros, enticingly warm winter cocktails by Valkoinen Sali and raclette cheese dishes by Deli Taste & Raclette Bistro.
Opening day programme includes Santa Claus and familiar Christmas carols
Helsinki Christmas Market's opening day is celebrated on Friday, 1 December. Santa Claus is present on the opening day between 2 and 7 p.m., and the Soiva Joulukortti duo performs familiar Christmas carols in Finnish and English from 4:30 p.m. until 5:30 p.m. Vendor stalls organise workshops that introduce visitors to the world of glassblowing, chestnut roasting and metalsmithing. Throughout the duration of the Christmas Market, children can enjoy the traditional wooden carousel, a Christmas tradition for many Helsinki families, free of charge for visitors to the Market. The market's warm-hearted Christmas decorations and atmosphere create experiences for the whole family. The entire Helsinki Christmas Market programme is available at tuomaanmarkkinat.fi/en.
Responsible Christmas spirit
The vendors and restaurants at Helsinki Christmas Market have been selected with an emphasis on responsible production and operation. The market has plenty of primary producers and small artisans whose product selection is a sustainable alternative to mass- produced gifts and decorations.
Helsinki Christmas Market's environmental impacts are assessed using the EcoCompass certificate. The market pays attention to sorting and minimising the amount of waste. Renewable energy is used to heat vendor stalls and power the carousel.
The Deli and Restaurant Yards emphasise organic and locally-produced ingredients and Fair Trade products. The selection includes vegetarian and vegan options, and the restaurants only use biodegradable dishware.
Helsinki Christmas Market is open in Senate Square from 1 December to 22 December 2023 Sun–Thu at 11 a.m. – 7 p.m. and Fri–Sat at 11 a.m. – 8 p.m. Admission to the Market is free. Senate Square will be the final destination for the students' Independence Day procession on 6 December and initial meeting point for the Saint Lucy's Day procession on 13 December.